Fantasy Running Backs
When Do Running Backs Decline?
By Robin of RotoPicks.com
In your atypical yonder-years fantasy football league there are certain myths or long passed down beliefs that have persevered through the times. Failing to evolve as quickly as NFL gameplay has, many of these myths once carried merit; now as antiquated souveneirs of a long passed game, they often defy logic. Between old school scoring systems, and a league accepted ground and pound style, running backs were considered the premium need for every draft.
Also playing in an era with something called a "feature back" (1 RB jeopardizing carries running behind trusty sidekick fullback), a ripple effect leaked into fantasy football drafts. Mass hysteria ensued with the focus being to quickly gobble up 2 running backs in the first two rounds, and often a third running back was picked before quarterbacks or tight ends.
Seasons success were so greatly impacted by those running backs abilties to stay healthy and their potential for big statistical seasons. From this spurned one of my favorite draft myths. THE MAGIC NUMBER MYTH. 32, no wait 30.....actually new studies show 28. Seemingly always varying, but always well supported with specific examples, scientific studies, impact and stress charts from the United States Board of medicine, etc. This number is the age in which running backs allegedly hit a statistical wall and should be avoided.
Whats changed, if anything? If there is a magic number, how much should it factor into things like draft position, weekly starts/sits, trade value, etc.? The answer I can confidently tell you is.....depends, kinda, I think...... Looking for something more assertive? There is an age in which past statistics have shown us running backs inevitably decline.
At this age it is likely they will never be as statistically valuble as they once were, and almost never become more productive. (Marcus Allen, John Riggins, Thomas Jones should be examined as they are genuine anomalies.)
However, rather than a stand-alone number used to determine a running backs worth, it is important to know how to intrepret all of the factors that contribute to where this magic number came from.
WHATS THE NUMBER?
Enough pleasantries. The age with overwhelmingly visible affects on statistical production is.......27. Does this mean avoid drafting any running back approaching or who is currently older than 27?
Perhaps. If having Adrian Petersen, Maurice Jones Drew, Steven Jackson, Chris Johnson, Frank Gore, Fred Jackson, Cedric Benson, Willis McGahee or Michael Turner (among others) isn't appealing to you. Obviously, most fantasy football players in any league or scoring system would be happy to start any of these players on a weekly basis, and many of those will go in the first 2 rounds in your leagues.
The chart below shows standard league scoring for running backs by decade. It is important to note, that while this is a collective mean/average of an entire positions production, the trends are so strikingly similar, it is fair to assume these trends will continue and are accurate depictions of the affects of age on running backs.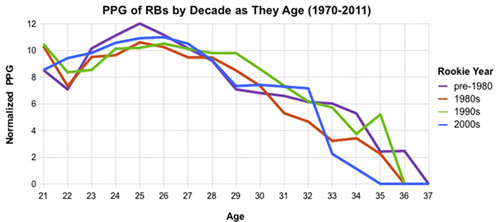 Don't be misled by sudden spikes of improvement! Jumping from 4PPG to 6PPG is a 150% improvement and looks great on a line chart.....but it's still 6PPG!
The steepness in decline after the age of 27 is alarming. Even more so, note the difference in production from age 27 and older from the 1990's alumni and the 2000's class. The 1990's were full of warrior work out wonder type running backs, iconic figures who teams wanted to milk every ounce of productivity out of.
All time greats like Emmitt Smith, Thurman Thomas, Jerome Bettis, Eddie George and Edgerrin James (great? In terms of fantasy production) were allotted seasons of marginal production. Seasons with a YPC average of less than 4.0. Seasons barely crossing 1000 yards were still considered a success. And thus, as they aged, lost a step, you see their production gradually declines, but they were still cheered for their past feats.
Given the option to return and monopolize carries, until they mercifully stepped down and allowed the youth movement to begin.
However in the modern game. GM's and coaches are all searching for their next multi-talented youngster to provide attributes of the running game, not carry the whole thing.
You have your RB1's, your blocking backs, your 3rd down backs, short carry specialsts, etc. This is reflected in how sharply the statistical production declines after age 27. In the past, it was the physical wear over the years that began the deline.
In today's game, often once that first step slows, or any red flags appear, teams are able to find versatile, athletic running backs in all rounds of the draft to replace aging players. These aging running backs most often are able to extend their careers by finding niche roles for teams, accepting a lesser shared type role OR as it pertains to your fantasy team, a clear decline in value and points per game. These roles often prove less fruitful, but more predictable. Perhaps that's why between the ages of 29 yrs old and 33 yrds old, their production levels out and regain some consistency.

CASE STUDY:
Lets examine a glaring case of this situation in a recently retired future Hall of Famer.
Ladainian Tomlinson
| | | | | | | | |
| --- | --- | --- | --- | --- | --- | --- | --- |
| YEAR | AGE | ATT | YARDS | TDS | REC | REC YARDS | TDS |
| 2006 | 26-27 | 348 | 1815 | 28 | 56 | 508 | 3 |
| 2007 | 27-28 | 315 | 1474 | 15 | 60 | 457 | 3 |
| 2008 | 28-29 | 292 | 1110 | 11 | 52 | 426 | 1 |
| 2009 | 29-30 | 223 | 730 | 12 | 20 | 154 | 2 |
Undoubtedly, Tomlinson was an elite running back, a future hall of famer, and his unmatched fantasy production from his rookie year until 2007 won countless peoples leagues. He was as close to a sure number 1 pick in every draft as we've ever seen and haven't seen since his decline......at age 27. Yardage and carries were in steep decline, yards per reception steadily declined, and if you had the first pick in your fantasy league before the 08 season, inevitably you viewed his season as a bust.
In the 90's Tomlinson would have been revered as a San Diego icon, more untouchable than AJ Smith and probably would have received (heath allowing) 200+ carries for three more seasons.
In the modern era, San Diego eagerly traded up draft picks to select Ryan Mathews, and couldn't get Tomlinson out of town quicker. The frosty relationship between L.T. and Smith still remains from this.
Was Tomlinson on anybody's draft board in 2010? When somebody finally picked him, did the room let out a collective snicker? Not only was he second on the New York Jets depth chart, he was....gasp....30 years old.
| | | | | | | | |
| --- | --- | --- | --- | --- | --- | --- | --- |
| YEAR | AGE | ATT | YARDS | TDS | REC | REC YARDS | TDS |
| 2010 | 30-31 | 219 | 914 | 6 | 52 | 368 | 0 |
| 2011 | 31-32 | 75 | 280 | 0 | 42 | 449 | 2 |
Obviously these numbers didn't blow anybody away, but in the 2010 season, compared to his ADP, he far exceeded expectations and performed at close to a RB2 level all season. (Much more so in PPR leagues) Even in an injury plagued 2011, he found a serviceable role as a pass catcher and averaged a respectable 10.7 yards per reception.
Tomlinson is an example of a player who began a statiscal free-fall at the age of 27, in which he never broke. While his numbers in the 2007 season are still impressive and probably near the top of any fantasy league scoring format, how many current running backs can afford to lose almost 400 yards rushing, 13 rushing touchdowns and 28 receptions and still be worth the draft pick you'd have to use to get them? Even worse, because he ranked so highly the year before, how many fantasy players got burned by Tomlinson's 2008 season, in which his fantasy ranking probably had him somewhere near solid RB2 status? He also serves as an example in which great players however, can find new situations to become relevant again and why/how running backs over the age of 27 can still provide fantasy production.
APPLYING THIS TO YOUR LEAGUE: KNOWING 'THE NUMBER 27' ENOUGH

Does this mean running backs over the age of 27 should be avoided? Or will certainly become draft busts? History and probabilty seem to direct us to that conclusion.
Fortunately, to make things more confusing and difficult, statistics don't actually work that way. If you were thrown into a locked statium with 100,000 other people and were told that 99% of all the locked in stadium visitors were going to get pregnant within 6 months, seemingly the odds would not be in your favor. But if you were one of the 1000 men allowed into this preposterous allegory, no amount of statistical evidence pointing to the contrary would make you purchase "What to Expect When Child-Bearing" from your nearest book store. While this was an extreme (ly stupid) example, it goes to show when statistics are applied to a largely un-specific GROUP, evidence may strongly prove something to be true, BUT NOT ABSOLUTE. There will be exceptions! The best weapon to predicting these exceptions is knowledge. Insightful knowledge into each players individual situations and backgrounds and those factors may affect their future production. Here are some of the things we should look at beyond age.
TOTAL TOUCHES
Did it seem odd that in the summer of 2012 that players such as Ray Rice and Matt Forte held out for every penny possible and seemed defiant to budge on their demands? Featured backs in versatile offenses, several productive years accrued and entering "the prime" of their careers? Did it seem even more odd that teams wouldn't budge past their franchise tag offer or that when the final figures came in, they still seemed low considering the value each has to his team? The conflict, a sports themed unstoppable force versus an immobile object, stems from what history has shown us to be a decline in production and value with accruing age AND TOUCHES.
Rice and Forte, both between the age of 24-26, are absolutely in the prime of their careers, but merely steps away from the dreaded 27.
Each of their teams probably has already begun filling their draft boards with their possible replacements and thus weren't willing to commit big long-term bucks.
The average career span of most NFL running backs is so short that their "prime" years are usually 2-3 seasons of maximum production. Even worse, even during those prime seasons, their POINTS PER TOUCHES will steadily decline. Though they may enjoy career seasons in terms of yardage, receptions, touchdowns etc, this is because these are the years where they are familiar enough with the offense to be the RB1, physically still near their peaks and generally exploited by their teams to have tons of carries and plays run through their hands.
The following chart tracks POINTS per TOUCH by NFL running backs.
If we assume the upwards spike at 2000 occurs at or around the players "prime years," the immediate spiral downwards in following years still stands out.
Of our aforementioned crop of significant RB1's 27 years or older, lets examine their career touches. (tpg=touches per game)
Steven Jackson- 2157 rushes, 372 receptions, 2529 touches, 21.62 tpg
Willis Mcgahee- 1901 rushes, 186 receptions, 2087 touches, 16.18 tpg
Frank Gore- 1682 rushes, 300 receptions, 1982 touches, 19.43 tp
M. Jones Drew-1498 rushes, 285 receptions, 1783 touches, 18.77 tpg
Adrian Petersen-1477 rushes, 140 receptions, 1617 touches, 21.28 tpg
Michael Turner-1506 rushes, 54 receptions, 1560 touches, 12.48 tpg
Chris Johnson-1198 rushes, 195 receptions 1393 touches, 21.77 tpg
*Fred Jackson-817 rushes, 175 receptions, 992 touches, 15.03 tpg.
Cedric Benson-1552 rushes, 110 receptions, 1662 touches, 17.87 tpg.
*-though Fred Jackson didn't enter the league until he was 26, and has a low total of 992 career touches, he spent three years prior to the NFL playing professional football of different venues. With close to 800 touches in those three years, his professional career has enjoyed a whopping 1791 touches
Compare each player to the Career PPT touch chart of NFL running backs. You should start to get an idea which direction each of these rushers is headed....
PLAYER INJURY HISTORY
How will injuries affect your running back? Every person responds differently to injuries and nobody is immune from pain, especially guys who have taken 400 hits+ for years. Let's compare one of our current backs, coming back from an injury, to a past running back who also was injured during the season he turned 27.
RUNNING BACK A (AGES 24-27)
| | | | | | | | |
| --- | --- | --- | --- | --- | --- | --- | --- |
| AGE | ATT | YARDS | TD | REC | REC YARDS | TD | FANTASY PPG |
| 24-25 | 345 | 1538 | 13 | 63 | 310 | 2 | 16.6 |
| 25-26 | 369 | 1750 | 15 | 42 | 287 | 0 | 19.2 |
| 26-27 | 392 | 2008 | 21 | 25 | 217 | 2 | 22.8 |
| | 1106 | 5296 | 49 | 103 | 814 | 4 | |
RUNNING BACK B (AGES 24-27)
| | | | | | | | |
| --- | --- | --- | --- | --- | --- | --- | --- |
| AGE | ATT | YARDS | TD | REC | REC YARDS | TD | FANTASY PPG |
| 24-25 | 314 | 1383 | 18 | 43 | 36 | 0 | 18.3 |
| 25-26 | 283 | 1298 | 16 | 36 | 341 | 1 | 16.1 |
| 26-27 | 208 | 970 | 12 | 18 | 139 | 1 | 15.7 |
| | 805 | 4551 | 46 | 97 | 916 | 2 | |
Relatively close in many major statiscal catergories, however, running back A proves to be the slightly more productive fantasy runner during peak years. With that being said, RUNNING BACK B is none other than Adrian Petersen. Petersen has enjoyed massive success since his rookie season. But even he is not immune from the affect of aging, and the slow march to 27. Rushing attempts, yards, touchdowns, receptions and receiving yards have all steadily declined, and that was before he injured his ACL (2012) in week 13. That was before he turned 27 which he will be the majority of during season (This article was written in 2012.) Ok, so AP at 80% is still one of the top backs in the NFL, and even if he declines slightly in physical abilities, his stats will still be among lead leaders. But that's a lot of risks for a guy still going in the top 5 picks in many drafts.
Another back taken in the top 5 of average drafts after his speedy ACL recovery, was RUNNING BACK A, Terrell Davis. His massive production before his injury as well as relatively young age, had people gambling early and often on him before the 2000 season. He responded with the following seasons:
| | | | | | | | |
| --- | --- | --- | --- | --- | --- | --- | --- |
| AGE | ATT | YARDS | TD | REC | REC YARDS | TD | FANTASY PPG |
| 28-29 | 78 | 282 | 2 | 2 | 4 | 0 | 13.7 |
| 29-30 | 167 | 701 | 0 | 12 | 69 | 0 | 9.5 |
This is an example on the extreme side as nobody had ever seen any indicators that Terrell Davis would suddenly become so devastated by injuries. While he probably wasn't blessed with the physical gifts of Petersen, he statistically outperformed him during the three years pre-injury. Can anybody be sure Petersen will come just as strong and fast as he was before the injury, before his 27th birthday?
PLAYER ROLE: PAST AND PRESENT
Fantasy football doesn't care where you've been. Only where you're going. Interestingly enough though, one of the best indicators of any potential success running backs over the age of 27 will have, is how they've been used until they turn the fateful age.
Two of the backs under the microscope in 2012 because of their age are Michael Turner and Steven Jackson, who were drafted in the same year. S-Jax however, was a highly regarded first round talent groomed to replace Marshall Faulk; while Turner flew under the radar at NIU and was drafted onto a team that had fantasy legend Ladanian Tomlinson. By the time Turner signed with the Atlanta Falcons in 2008 to become a featured back for the first time in his career, Steven Jackson had logged a whopping 1161 touches in his career, including a season with 356 carries and 90 receptions. Turner has just three seasons in which he has amassed more than 300 touches. Since 2005, Jackson has eclipsed this number every year except 2007. (still a rather large number of 276). While both backs would have to be considered feature backs on their squads, probable to handle the majority of carries, fighting to stay ahead of relatively low threat recently drafted youngsters (J. Rodgers and I. Pead), they are close in age, but to say they're in similar fantasy situations would be inaccurate. Using the chart above, it shows that throughout history running backs produce at comparable rates when approaching 1500 and 2500 touches. However, where they go from there is what is important. It's reasonable to think Michael Turner has another consistent or productive 1000 touches (about 3 seasons at his current rate (2012), taking his career touches to around 2500). Steven Jackson on the other hand looks to continue his 3 yr downward trend, which is alarming considering his 12.3 PPG last season.
That's an example of how a player's past roles may affect their future production.
Willis McGahee definitely has some red flags in his past that point to a stuggle to meet last years (2011) production. He's battled injuries, he's battled mediocrity, and worse he comes into the season with over 2000 career touches. However, his biggest battle is his current situation. His numbers last year, all near or surpassing career highs, were certainly respectable. But not in fitting with his stalled career. His 1200 yards rushing almost matched the previous three years total and his 4.8 YPC exceeded his yearly high by almost a yard. Running backs making that kind of leap and then maintaining it are not a common occurrence to say the least. Even amongst this breakout, he did not catch the ball well, stay healthy or score many touchdowns (4). That's a lot of red flags for a guy having the year of his life. He has a young first rounder behind him on the depth chart in Knoshown Moreno and Ronnie Hillman looks poised to be Denvers next running back surprise. Oh yeah, there's also that new quarterback who's supposed to be pretty good and may direct an offense that looks nothing like a 2A high school playbook, which was STILL too complex for Tebow to run effectively. Even if McGahee was a never injured 24 year old back under those circumstances his draft stock would certainly plummet. Currently (2012) he is being drafted in the middle rounds of most drafts, appropriate to his production last year. If his numbers slip at all however, you have a bona fide fantasy bust.
GOODNESS VERSUS GREATNESS
Certain NFL players just have a different look and feel to them. A good NFL running back in his physical peak, in the right siutation can produce terriffic seasons. And yet even the teams reaping the benefits of their terriffic work don't ever seem sold on them. Did the Bengals ever seem sold on Cedric Benson even as he was ripping off three straight 1000 yard seasons? When Shaun Alexander was breaking NFL records, why did the Seahawks seem so enamored with Maurice Morris? Fred Jackson emerges into a viable starting running back, the Bills respond by trading up to pick C.J. Spiller? Can the 49ers find a new way to fit in another running back onto their roster seeing as Brandon Jacobs, Kendall Hunter and Lamichael James are necessary to backup Frank Gore. Jason Snelling looks the part of a poor mans MICHAEL TURNER, while Jacquizz Rodgers will ensure Turner never gets involved in the passing game. All these players have been and could be productive NFL running backs. Some have had monster fantasy seasons in which they produced like NFL greats. But at the end of the they're all very good players lacking certain attributes to take them to the next level.
The following is a list of very good NFL running backs who follow the aging trends discussed throughout this article.
| | | | | | | |
| --- | --- | --- | --- | --- | --- | --- |
| PLAYER | AGE | YARDS | TDS | REC | REC YARDS | TDS |
| Rudi Johnson | 26 | 1458 | 12 | 23 | 90 | 0 |
| | 27 | 1309 | 12 | 23 | 124 | 0 |
| | 28 | 497 | 3 | 13 | 110 | 0 |
| Clinton Portis | 26 | 1262 | 11 | 47 | 289 | 0 |
| | 27 | 1487 | 9 | 28 | 218 | 0 |
| | 28 | 494 | 1 | 9 | 57 | 1 |
| Willie Parker | 26 | 1494 | 13 | 31 | 222 | 3 |
| | 27 | 1316 | 2 | 23 | 164 | 0 |
| | 28 | 791 | 5 | 3 | 13 | 0 |
| Ahman Green | 26 | 1883 | 15 | 50 | 367 | 5 |
| | 27 | 1163 | 7 | 40 | 275 | 1 |
| | 28 | 255 | 0 | 19 | 147 | 0 |
All of these running backs had a two year total that would rival any Hall of Famer or NFL greats. And yet, with the exception of Portis' spike from age 26 to 27, none of these running backs were immune to a steady and dramatic decrease in production and none of them were even serviceable as fantasy running backs at the age of 28. There is no measureable thread amongst them to explain their decline. Injuries, passion, physical shape or skills may have played a part, but nevertheless as most human professionals, these fantasy studs wore down and declined as they aged.
In the case study of Ladanian Tomlinson, we saw that he too declined and became less productive as he aged. However, his age 27 year still saw him lead the league in rushing yards and touchdowns. In his age 28 year, he ecliped 1100 yards rushing and 11 rushing touchdowns. And in his hideous age 29 year, though he didn't amass 800 yards rushing, he was still able to produce an impressive 12 rushing touchdowns. At the age of 30 he produced stellar numbers in his first year in New York.
Other backs who produced eye popping seasons after their 29th birthday include, but are not limited too:
-Eddie George reeled off three straight seasons over 1000 yards after his 28th birthday. At the age of 28, in one calendar year, he carried the ball 519 times for 1990 yards.
-Marshall Faulk had steadily declined by his 31st birthday and never again approached the numbers he achieved in his prime, but in his age 31 year he eclipsed 1000 yards from scrimmage in 14 games with a YPC average over 4.0!
-Fred Taylor made his first pro bowl at the age of 31 and average 5.4 YPC that year.
-Curtis Martin led the league in rushing at the age of 31.
-Priest Holmes earned his best three statistical seasons at the ages of 28, 29 and 30. At the age of 31 he was on pace for the most successful season in NFL history (yards from scrimmage) before injuries began to derail his career.
-Jerome Bettis made the Pro-Bowl at age 32.
-And of course, Emmitt Smith made the Pro-Bowl at thirty. Rushed for 1000 yards at age 32, near 1000 at 33 and was on pace for a 1000 yard season at the age of 35 but missed 1 game and finished at 937 yards and 9 touchdowns.
All of these backs serve the point, great players find a way to persevere, even when fighting age and time. They experienced the trend of decline in statistical production other running backs suffered, but were still able to produce at high rates.
An easy identifier of these special players is their standing on a team immediately following their selection in the draft. AP was selected to be the feature back immediately. MJD and SJAX were brought in to replace legends and proved so talented each saw significant work as a rookie, before being given the keys in their second seasons.
Frank Gore who has been wildly productive wasn't selected until the 65th pick in the draft, Michael Turner wans't picked until the 5th round, onto a team with Tomlinson. Fred Jackson couldn't make the league until age 26, Cedric Benson will never live up to the hype created by his draft position and Willis McGahee was drafted before teams were even sure his leg would heal right. The elite players are elite early and easy to spot, these are the types of players that produce for long careers.
APPLYING THIS TO THE 2012 SEASON
In relationship to fantasy football, all of this information isn't to say which running backs will be good, or which ones will have solid statistical seasons. The reality is, most of the current 27+ backs is in a situation where they have been given circumstances groomed for their success and production. Fred Jackson and Willis McGahee are exceptions to this. The ultimate goal is to determine which running back will produce at a level worthy of the draft pick required to obtain them. Last year Adrian Petersen and MJD were both in the top 3 of running backs selected. If you had the third pick in this years draft, would you select either? Would selecting them bypass another player who will exceed their fantasy value? Often times with aged backs, the answer is unfortunately yes. The Tomlinson season in which he rushed for 1100 yards and 11 touchdowns is a terrific season, numbers right on the cusp of RB1 and in the upper echelon of RB2's. However, his average draft selection was < 2.0 Meaning the only way he doesn't become a draft bust is by producing the best point total of any other player or position.
Taking all of this into account; here's what to make of the current 27+ running backs for the 2012 season.
Adrian Petersen-Seems like a perfect match for a season long bust. He will certainly still produce great numbers, but even prior to his injury had been on decline for years. He's recovering from a serious ACL injury, behind a young offensive line, in an offense where nobody respects the QB or WRs. His reputation as a physical specimen and past statiscal success will probably carry him into the first round in many drafts, second round in most and certainly no later than the 9th running back off your board. That type of draft positioning is indicitive of RB1 Stud numbers.....numbers he'll surely let you down on. If your strategy is to draft a 27 year old running back who tore an ACL in week 16 of last year, after missing three games before that with an ankle strain, in a season he was on pace to decline in fantasy value for the third straight season......as your RB1 feature back..... You're in trouble.
MJD-Another popular recent target to suffer a sure drop. MJD's recent workload and touch count has been astronomically high as he's been asked to carry a pitiful Jacksonville offense for years. Uncertainity at QB and WR have also plagued him, as they have his whole career. His early career time shares with Fred Taylor and the inflation of his touch counts by his active role in the passing game (weaker hits, less grind and tear) work in his favor. MJD will certainly be productive, espeically in PPR leagues, however on average he is being picked as the 4th or 5th running back off the board, again, even just barely declining on his numbers from last year would not justify how high you'll have to draft him. If I owned him, I'd start him every week, hope for no injury, and appreciate the production he did provide, even if it wasn't worth what I paid to get him.
Steven Jackson-Too much decline in recent seasons. Too many touches. Too many years playing on horrible Rams teams that required him to play hurt, too many ridiculous touch counts with defenses keying on him. I believe this year will be the beginning of the end for Steven Jackson as a servicable fantasy running back, unless he finds one more year of youth next season with a contender because the Rams mercifulessly cut him. If I owned him, I'd look for sleepers on the waiver wire until the next major injury to another runner, then I'd offer Steven Jackson for anything of need to me and be happy with whatever I could get.
Chris Johnson-Hard to believe not too long ago this guy was commonly the first running back off the board and the first pick in a lot of drafts. Coming off a 2000 yard season with promises of more involvement in the passing game, he looked like the real deal. Injuries and ego have derailed and that explosive speed now lacks, well.... explosion and speed. I actually believe his stats this year will look pretty good, and eclipse last years, but his inability to out perform SJAX or F GORE in any of the past 3 seasons is alarming and he looks like a prime GOOD but NOT GREAT player. That being said, when he's good he's as good as any other current runner. The Titans have a good collection of skill players around him and his early year time share with BF Lendale White has kept his touch total low. His stupidly slow start makes him a great candidate to buy low, as no owner could feel good playing him anymore. Offer something like Frank Gore and Andrew Luck for CJ2K and Peyton Manning. I bet your rival owner will think about it a lot more than he should. If I owned him, I'd start him and wait for the inevitable 4 game stretch that he rushes for like 750 yards and has at least one 80 yard reception for a TD. Then I'd sell as high as I could before he totals 400 yards in the next 8 games.
Frank Gore-Anywhere you draft Frank Gore he'll get hurt or subbed out of goal line packages just enough to make him a bust. Will put up enough random big games though that fantasy owners will tolerate him for way too long and probably start him every game he's availible. If you own him, TRADE HIGH now. Go out and get yourself a Beanie Wells, Stevan Ridley, Demarco Murray and WR3 for him. If I owned him, I'd put him on the trading block but start him while he's healthy and performing hoping to catch an appealing offer.
Michael Turner-He'll run into the pile 20 times a game for 3 to 4 ypc. He'll score vulture TD's from the 1 yard line. He'll be sitting every 3rd down in favor of J. Rodgers. He'll continue to decline slightly statiscally, all the while remaining productive enough to be a solid RB2 week after week after etc etc etc. Players like Turner make Fantasy games less fun, as you plug him into your lineup and never touch him again, no matter how dull or limited he remains. If I owned him...I'd like myself a lot less, and everytime I looked in a mirror I'd chant things like "you sold out!"
Fred Jackson-A quick impression of somebody in Buffalo's personnel management. "Hey, that CJ Spiller is pretty good. Where'd we find him?" "Uh, in the first round not too long ago bud." There's a reason you draft running backs in the top 10, even though it's the easiest skill position to find late round talent. That reason is because that player is really really good, like franchise changing good. Aside from CJ Spiller looking like CJ Spiller should look, Fred Jackson's production last year was eye poppingly above his career averages. Maybe he was coming into his own after finally being given a shot and maybe, and much more likely, a good player was catching a lot of breaks, making the most of them and became so successful at it the universe struck him down this season to balance out some unseen evils somewhere else in the world. If I owned him I'd become commissionner of the league, allow trades for individual OLmen. Trade Jackson for King Dunlap, then pick the defense going against Dunlap and start them every week.
Willis McGahee-Talked about earlier. Actually looks great through the first two weeks of the season, but have you noticed Denver has not once this year allowed him to be on the field for more than 2 plays in a row. They're delicate handling of him depicts how brittle he has been. He's never been a big TD or REC guy, but currently has value as a big name accruing yardage. If I owned him, I'd offer him for somebody preposterous like Tom Brady, Calvin Johnson, Mason Crosby. Then whatever the counter offer I received back was, I'd take.
Cedric Benson-I don't want to write about Cedric Benson any more than any of us have wanted to watch him plod his way to mildly successful seasons 3 yards at a time. Why doesn't he cut? Or accelerate? Or try to break tackles? If I owned him I'd be sad. A lot.
CONCLUSION
While there is a proven age in which most NFL running backs begin a decline in production, there is no formula to then determine the impact this decline will have in your league. Your leagues drafting tendencies and trends will dictate the value of each player and thus determine whether or not certain players are picked too high or low. As your team shapes and you begin filling out your rosters needs, simply determine what you believe the running back in suspect projects to produce statistically, and then determine if that's the highest value you can obtain. If Frank Gore rushes for 900 yards and 6 TDS this year, thats a sharp decline from his past numbers, but if you're loaded at WR, QB and TE and he's the best RB availble to you, pull the trigger. After all, we are not out to prove a science experiment about aging and the affects it has, we just want to win our leagues and of course, spend the next 9 months reminding everybody, that we in fact won that league.
Good Luck in your matchups this week.